The housekeeper, Mrs Porter (Alida Rawl) skips out onto
the stage singing "Little Buttercup" (from Gilbert &
Sullivan's  HMS Pinafore) and strewing flowers about.
She is surprised by Owen Tregennis (Left, played by Arthur Robinson)
and his slightly older brother George (Billy Rawl) exhibiting manical
behaviour, including George attempting to put a flower in his "hair."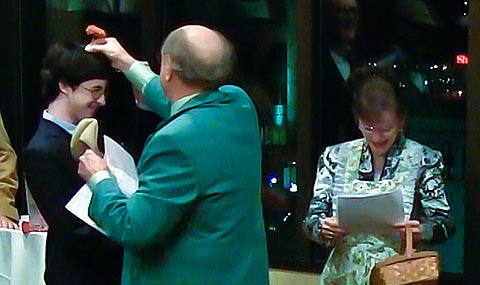 When George is unable to find any hair of his own he attempts
to insert the flower into his brother's while Mrs Porter panics.
The eldest Tregennis brother, Mortimer (2nd from left, Charlie
Cook), explains the situation to Sherlock Holmes (2nd from right,
Phil Dematteis) while Rev Winston Roundhay (Far right, Bernard
Manning) and Dr. John H. Watson (Far left, Al McNeely), look on.