CHRISTMAS MEETING DECEMBER 7, 2007
Page 2 – The Play
THE ADVENTURE OF THE PRIORY SCHOOL
(All pictures and captions provided by Dr. Bob Robinson, and persons are listed left to right)
Holmes (Phil Dematteis) and Watson (Bernard
Manning) are visited by Dr. Thorneycroft Huxtable,
M.A., Ph.D., etc. (Dervin Bradford), who faints
immediately after being admitted to 221B.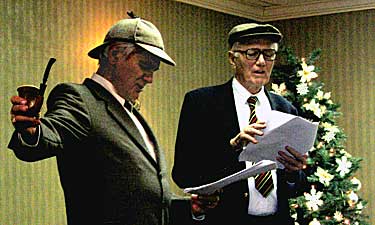 Holmes educates Watson.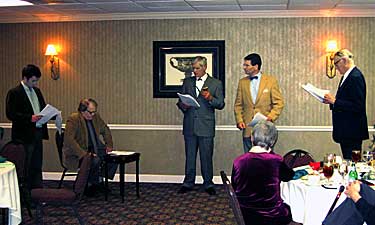 James Wilder (Robert Cranford), Secretary
to the Duke of Holdernesse, the Duke himself
(Wayne Scott), Holmes, Huxtable, and Watson
discuss the missing 10 year old Lord Soltire.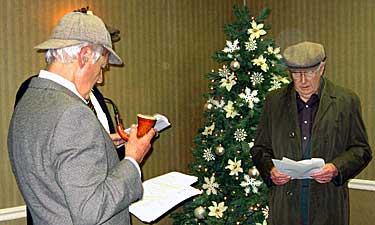 Holmes and a hidden Watson confront Reuben Hayes
(Al McNeely, who also directed), the obstreperous
proprietor of the Fighting Gamecock Pub.