(A few various & sundry stories, witticisms, parodies and other entertainments vis-ŕ-vis Holmes & Watson)
Page last modified July 16th, 2015
THE SQUEAKING AXLES VIDEOS
(New feature June 24, 2013)
MP4 videos of plays performed by members of our scion at Christmas meetings and other occasions. As you can see by the file sizes, these videos are quite large and require a broadband connection and a fairly powerful computer. Left-click the individual links to play or right-click to download. Download times will vary, but generally you may expect the files to take about 3 – 5 min. each.
NOTICE: These videos will stream in Internet Explorer if your default player is Windows Media Player, or in Chrome using its default player. If you use a different default player in IE the video may have to completely download before it will start playing. It has been our experience that Chrome will always play the videos in its default player whatever your settings. We don't know about other browser / player combinations. Of course, if you download the videos first you may play them in any player that supports MP4 files.
Most of these videos are available in high definition. If you would like HD copies e-mail the Spokesman.
A musical play performed

at our annual Christmas meeting on December 3rd, 2014 depicting Holmes'
struggle with the

realities of Christmas.

181 MB

8 m

ACT II
243 MB

9 m

232 MB

9 m

241 MB

9 m

209 MB

 7 m

123 MB

5 m

Want to make a DVD?

Download this

A presentation by John Wrisley
at the HW meeting on Feb. 20th, 2014 on the history of various radio versions of our detective.
(Click picture above
for written story)

Adapted by Phil Dematteis from his paper presented at a Hansom Wheels meeting in
2003 and performed

December 5th, 2013.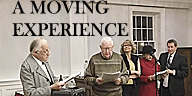 A "Radio Play" written by the
late Lloyd W. (Bill) Brown and performed March 21st, 2013,
about 20 years after its premiere.
EXTRA!
To see an "unusual"
recitation of Vincent
Starret's "221B"
16 MB 51 sec